Consciousness @ Miramonte
March 15.-20., 2018
(you choose how long you want to join)
Outside the cold, clean mountain air with a view of snow-covered peaks, yet inside nothing but warm coziness. Rejuvenating activities coupled with relaxing moments. That's what a vacation should be like. That's how you connect with your self.
March 15-20th, 2018, I am offering something beautiful for yogis, skiers and hedonists: Relaxing and inspiring days with movement, wellness and special insights to foster consciousness and clarity in a truly amazing surrounding.
Everyone is free to create their own day: sleep in or begin your day with yoga. Endulge in an extended, healthy breakfast or quickly head out onto the slopes. Let life come to you: Sometimes the days just happen at Miramonte.
Discover yourself in Bad Gastein
Program-Highlights:
2 x Yoga and meditation each day
Personal Consciousness: Personal yoga or consulting session
Insights: mindfulness, consciousness
Fresh juices and herbal teas
Snow-Hiking in the mountains
Sauna to your delight
Totally relaxed: the program should offer sufficient time to chill. You can choose freely what offers you want to participate in.
When booking up to three nights 30 minutes, when booking more than three nights 2 x 30 minutes of  personal consulting or personal yoga are included. Use the time to gain insights and clarity about yourself.
The general Yoga-Sessions are simple, yet interesting for both beginners and advanced yogis. The focus is more on somatic registry and sensibility than about challenging yoga postures.
Feel free to top off your stay with skiing or spa treatments! The front desk at Miramonte is happy to assist. #treatyourself
Delightful Dining
Yoga & Meditation
Miramonte Spa
Cozy Lounge
DATE:
March 15.-20.,  2018
You choose how long you want to join between March 15th and 20th, 2018. There is something inspiring happening every day.
COSTS:
Special offers at Hotel Miramonte
(incl. accommodation, breakfast, 4-course dinner, daily yoga and personal sessions)
No responsibility is assumed for this information, subject to corrections :
2 nights in a budget-twin-room starting at: 275,- € per person (twin use), 380,- € (single use)
4 nights in a budget-twin-room starting at: 530,- € per person (twin use), 740,- € (single use)
Book by February 1st, 2018 and receive a free thermal bath!
Please request additional offers from Haus Hirt if you are interested in attending and travel with family.
Program participation for external guests: 50 €/day (includes 2 x Yoga and 30 Minutes personal session. Please register at least one day in advance at Hotel Miramonte.)

Request pricing offer:
Big view
Design Hotel
Cozy Rooms
Sein
LOCATION: 
Hotel Miramonte, Bad Gastein, Austria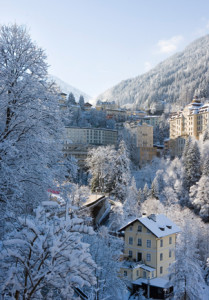 Bad Gastein is a truly magical place with it's Belle Epoque architecture. Its location in the Gasteiner Valley offers a beautiful location to retreat and recover.
Hotel Miramonte and Haus Hirt stand out, because of their refined design and loving atmosphere. While singles and couples can relax at Miramonte, families are pampered at Haus Hirt.
Arrival: Bad Gastein is easy to reach by car. Flight connections are available to Salzburg and Klagenfurt. From there it's just a 1,5-2 hour drive by car or train to Bad Gastein.
Clemens Frede:
Clemens Frede has studied performance psychology and is an experienced yoga teacher (RYT500). He teaches workshops and trainings to strengthen self-confidence and places performance in a new context. He lives in Hamburg and teaches internationally.