This weekend I attended the Yoga Meeting in Merano, Italy – a weekend with a delightful mix of Yoga-Teachers with various traditional backgrounds. It's a sweet overview of the current diversity in yoga. From Mindfulness coupled with Nordic Walking to Singing Bowls and attentive breathing – you can find it all here.
The yoga fair in the big room always seems a little strange to me. They are selling malas, meditation cushions, incense and different massage treatments.
The latest and apparently greatest: holistic pulsing. To me it feels like an old idea in new packaging. Yoga has become a market place that continuously offers new trends, which touch your soul on the deepest level and connect you to your true identity. Minimum requirements are words thrown in, such as 'quantum physics', 'physio-psychological level', and 'life energy'. Oh, and they are all registered trademarks, of course.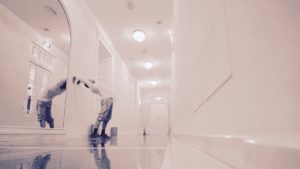 Other than teaching my own workshop on physical awareness I also attended a few classes. An interesting experience, when you don't understand Italian. One workshop on "Yoga for athletes" and two open classes. In the end the message was always the same: less is more. Less pressure, less aggressive grit, more mindfulness, more attentiveness, more sensitivity. Regardless of the tradition and the country – in the end we were all talking about the same process; everyone in his or her own way. A big thank you to the organizers, who did an excellent job. Everything ran smoothly and I had a super-sweet translator in my workshop.
Outside, in front of the Kurhaus, tourists are strolling up and down the promenade along the river. Meran is beautifully located in the mountains of southern Tirol. The palm trees along the river provide it with a refreshingly exotic touch. This is where the Alps meet the Mediterranean, where Schüttelbrot meets Espresso. The mountains are just amazing and I am really excited about my next visit to the Alps in June. Join me!